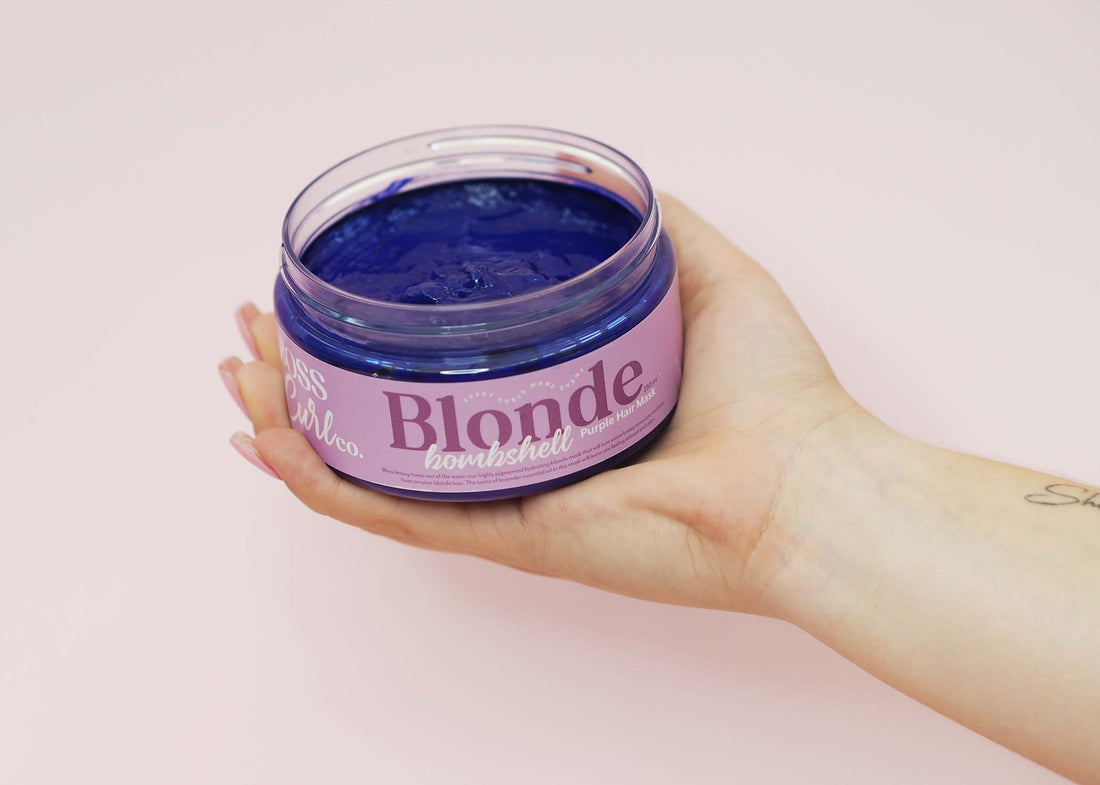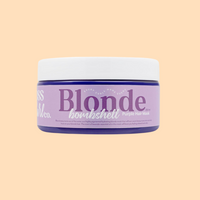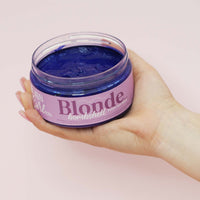 Blonde Bombshell - Purple Hair Mask 250ml
When you REALLY need to tone it up, we got you covered with Blonde & The Beautiful, an absolutely stunning toner that kicks brassy tones to the curb! With 3 toning types to choose from you will go from yellow to HELL NO in minutes! 

This highly pigmented hydrating mask will turn those warm brassy tones into cool ashy hues on blonde hair, and with a scent of lavender essential oils in this mask, it will leave you feeling relaxed & calm. 
DIRECTIONS OF USE After freshly shampooing hair, wring out excess water and gently massage desired amount into hair. Apply evenly through hair, piece by piece. Then condition as per normal.

1 minute - light toning
3 minute - medium toning
5 minute - intense toning
This product is highly pigmented and will cause very porous platinum blonde hair to turn a slight shade of ashy grey or purple (Will also stain clothes). Use the light toning time for a less intense colour.

Made in Australia. All of our hair care products are produced to be "CG Approved". Products not tested on animals. Only essential oils are used for fragrance.

INGREDIENTS:
Water (Purified), Shea Butter, Cetearyl Alcohol, Prunus Amygdalus Dulcis (Sweet Almond) Oil, Quaternium-80, Ceteareth 20, Glycerine, Stearic Acid, Phenoxyethanol, Caprylyl Glycol, Guar Hydroxypropyl Trimonium Chloride, Lavandula Angustifolia (Lavender) Oil, Ethylhexylglycerin, CI 60730, CI 77742, CI 17200

Intense!!!!
My gosh
I left this in while in the bath thinking it will be ok and not actually reading the instructions
Hello ooooo purple hair!!!! Lol
The next day I shampooed and conditioned and ended up with the most amazing toned blonde
10 out of 10!!
lol it works quick and well!!! :)
Great toning!
Since changing to the curly girl method I've struggled to find a CGM approved toner/mask for my partially dyed/sun bleached hair which NEEDS a strong and deep toner. Everything I've bought and tried didn't make any difference at all (a lot of wasted money)
But this toner worked an absolute treat for me. It didn't dry out my hair (my hair is already very dry due to salt/chlorine and sun)
It toned my hair beautifully, brightened up my blonde ends and took the brassy colour out of my darker blonde/brown pieces.
I've already stocked up with an extra two tubs to keep in the cupboard!
Hey Holly - this is exactly why we created the blonde mask so to hear that it works exactly how we want it to is music to our ears. Thanks so much <3
Amaaaazing!
I was skeptical about this because often toners don't live up to what they say they can do. But this toned down my brassiness so much!! Worked amazingly. Won't go back. Definitely give it a go! So glad to have something that works without all the chemicals!
We are SO happy you are happy Gillian :)
Very pleased
My long silver grey hair had turned golden on the ends...I was delighted to find a product that made my colouring more even. And I love that it's cruelty free. Thanks for a great product!
We are so happy to hear it's helped so much Asta :)
JOIN FOR FREE
The Boss Curl Club
Enjoy free e-learning, go-lives, Q&A's, curl workshops, product reviews and more! It's the best way to learn how to use Boss Curl Co products and also learn about your own curls.
SIGN ME UP!