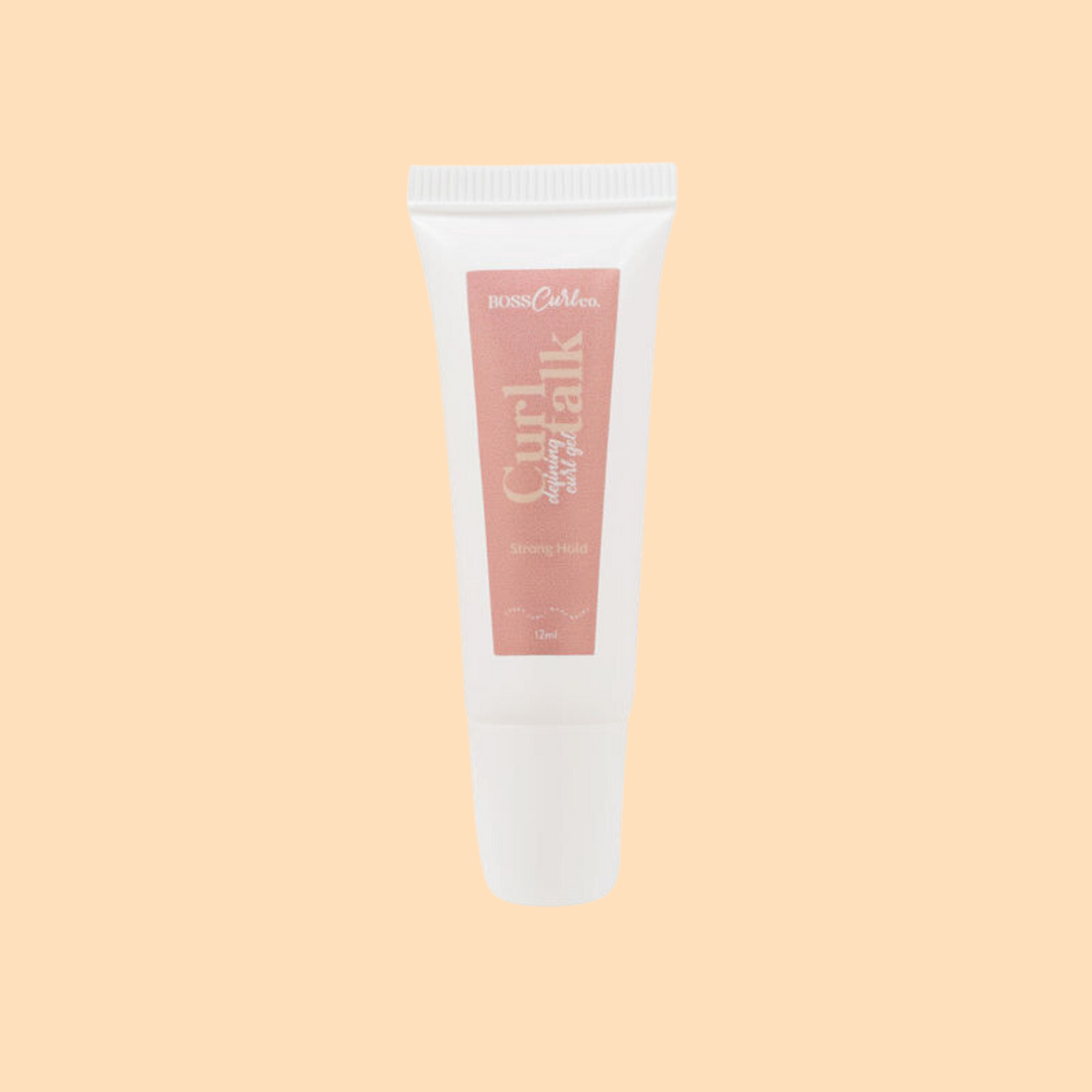 Curl Talk - Defining Strong Hold Gel
Let's have a kiki, and talk about CURL TALK. This gel is pretty strong, it is guaranteed to help eliminate frizz and create a nice gel cast that's easy to break. Every-bodies talking about Curl Talk, it's just that good!
BEST FOR thicker waves, curls and coils, even fine hair (but a lot of it) 
DIRECTIONS OF USE after applying Boss Curl Co. leave in conditioner to wet hair, section hair and add 1 pump to each section. Brush through with a wet brush and finger coil if necessary, scrunch to activate curl. Or apply a few pumps all over and scrunch in. Air dry or diffuse to add volume. Lightly break any gel cast with Boss Curl Co's "Scrunch out the crunch" oil.

Made in Australia. All of our hair care products are produced to be "CG Approved". Products not tested on animals. Only essential oils are used for fragrance.

INGREDIENTS:
Water (Purified), Glycerin, PVP, Aloe Barbadensis Leaf Extract, Citrus Species Peel (Pink Grapefruit) Oil, Phenoxyethanol, Carbomer, Ethylhexylglycerin, Sodium Hydroxide

Love this gel
Love this gel. It gives definition, hold & eliminates the frizz in my long, thick curls. I only use it after washing & it lasts so well! It has even combatted frizz whilst away in Greece!
All we heard was Greece thanks for your review Sally, so glad it's doing wonders on your holidays!!
Great hold on thick af waves.
So many gels for wavy/curly hair are lighter ones, and for my think, dense mop that just doesn't cut it. This gel works really well for me though. I get days of hold from it, can easily layer it over leave in/cream and itself, and makes refreshes easy, too. A must have for my routine.
SO great to hear - we really wanted to help ALL types of curls so very glad this works so well for you Jenna x
Loads of Hold
My hair is quite fine so I usually stick with lighter products but this gel was great for wash day. It gave some solid hold and helped with volume from day 1. I just purchased a sample but will definitely buy a full size next time I need a gel and add it to my weekly routine. 💜
Oh that's amazing news Amanda! Thank you for your review :)
Great for humid conditions
I have high porosity 3a/3b curls and this is one of my favourite gels. It gives a great cast that scrunches out easily and leaves shiny defined curls even in Sydney humidity. And smells delicious!
Great hold!
This is a wonderful gel, it provides a strong hold and great frizz control but doesn't make your hair brittle or too crunchy. The only downside is that it's not sold in a bigger size!
You are in luck! Big sizes coming soon!!! Yay!
JOIN FOR FREE
The Boss Curl Club
Enjoy free e-learning, go-lives, Q&A's, curl workshops, product reviews and more! It's the best way to learn how to use Boss Curl Co products and also learn about your own curls.
SIGN ME UP!