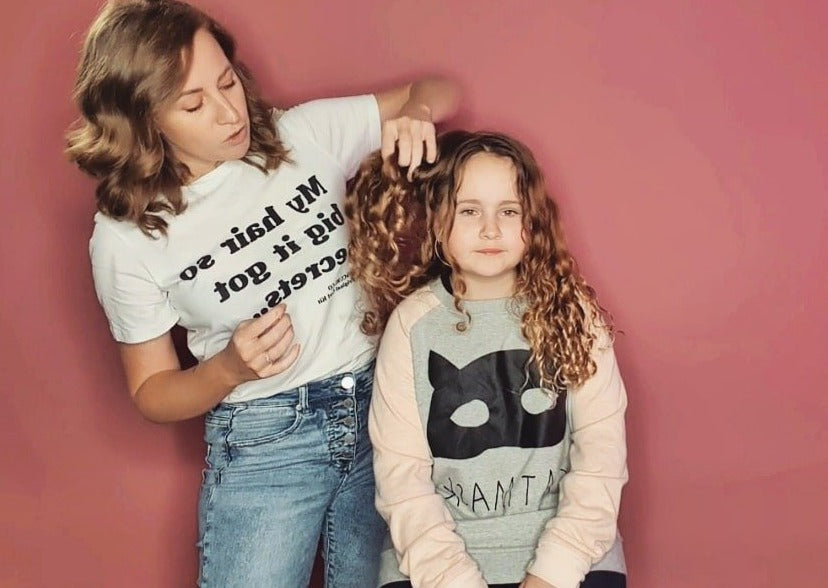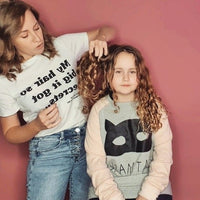 Curly haired children are a whole other ball game, we KNOW what it's like to grow up with curls (and we also know what it's like when our parents don't understand curls). Embracing and loving curls should start here, when our kids are little, and with this kit they CAN learn all about looking after their curls from the get-go. Not like some of us 80's babies who only just figured it out at 30+!

The Curly Kids method has been trialed and tested on children using all the products we stock, however you will receive this kit with in a beautiful box with our entire step by step method and tutorial to maintain amazing curls!
CG Approved
Light products for thin hair Great for 2a - 3b type hair (waves - curls)
An easy process for parents and kids alike
Fuss free curls
Kid friendly products (2 yrs - 12yrs)
Don't know what hair type you have? Read here.
What's in the kit?
1 x 250ml Kids Shampoo
1 x 250ml Kids Conditioner
1 x Hair Wrap (160x60cm)
1 x Leave in conditioner spray
1 x 100ml Just a Curl Lightweight Gel
1 x detangler brush
Video tutorial & step by step guide
What else do you need?
If you want maximum volume and curl, we suggest a diffuser, you can purchase one of those here. We do recommend air drying children's hair however.
Disclaimer: No claims are made to guarantee results. Results will vary by each individual. Some customers have immediate results but note hair that is extremely damaged may take longer for results.
Thanks from a dad!
My toddlers curls have been so hard to navigate, as a single dad i was recommended your curly kids kit by my sister, and I am so thankful! The whole system has helped me - my baby girls curls last for days. My only issue is 3 days in the knots can get a bit crazy.
This is so wonderful to hear - we have the perfect solution for the knots too, our NEW detangler is going to save those knots 3 days in :) hope this helps!
My little girl's hair is saved
Thank you Boss Curl Co. Your tutorial for this kit was exactly what I needed, let alone the products that are gentle and work so perfectly on my little girls hair. The best part is SHE loves her curls now - that's all I wanted. I am so happy!
We just love that the next generation will love their curls and embrace them, thank you for this review it's made our day
JOIN FOR FREE
The Boss Curl Club
Enjoy free e-learning, go-lives, Q&A's, curl workshops, product reviews and more! It's the best way to learn how to use Boss Curl Co products and also learn about your own curls.
SIGN ME UP!