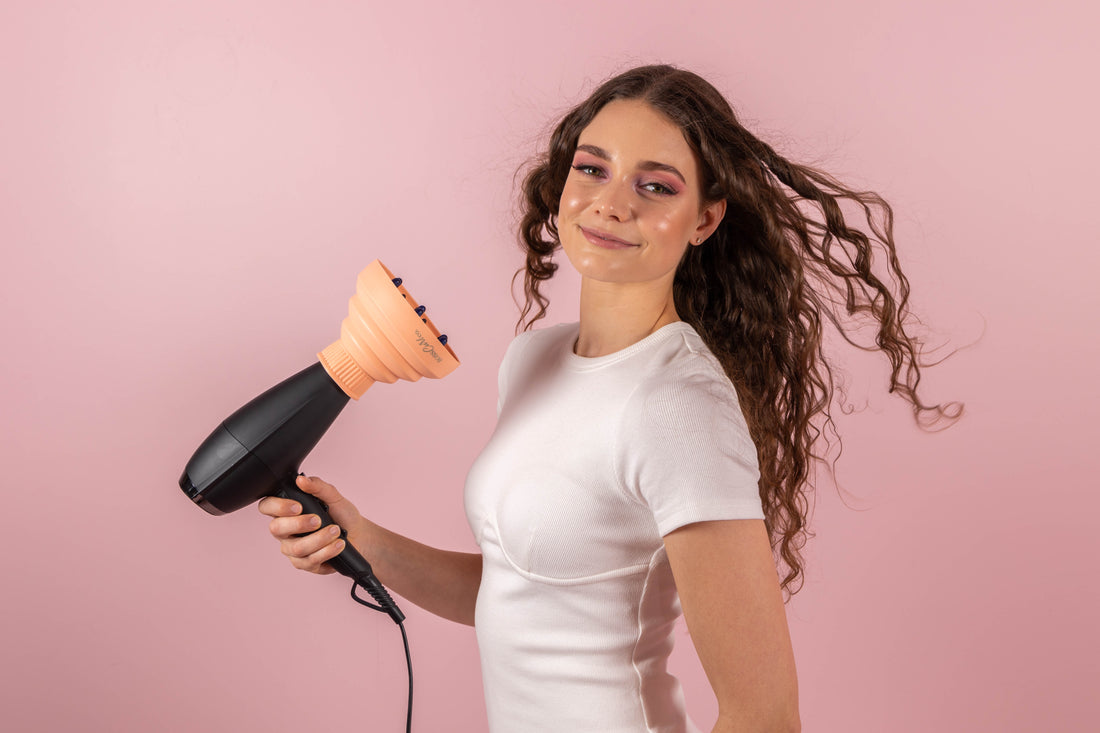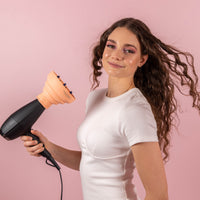 Foldable. Portable. Universal. Silicone. 
This attachment offers a uniform air distribution that reduces the amount of heat expelled, maximizes the shine and enhances your natural texture. Comes in peach. 5.2cm diameter to fit hairdyer (we recommend measuring your hairdryer before purchasing)
Perfect for travel! This foldable universal diffuser fits most* hairdryers and is easy to pack into your suitcase, or use at home. We recommend if you want bouncy, more defined and curlier curls, diffusing is the secret!
How to use: Simple flatten diffuser and place on a hard flat surface, push hairdryer nozzle in. If the nozzle is too small, fold the inside of the opening in of the diffuser to fit larger nozzles.
This hair diffuser is adaptable to most* models of hair dryers. *NOTE: Will only fit on hairdryers with a nozzle, eg: dyson hair dryer will not work however the Dyson Air Wrap does *Some hairdryers may not fit please measure your nozzle before purchasing.
First time diffuser user
This diffuser has become an integral part of my curly hair routine. I have high porosity hair so it takes a loooong time for it to dry naturally. So I plop fully gelled and squished hair for 30 mins then microplop before diffusing for 10 mins. That gets me pretty close to fully dried and frizz-free curls. If you don't have one, get one ASAP!
SO happy it helps you so much Brooke YAY!
Its amazing Thanks Del! - my hair looks great! x x
Guuuuuurl, i thought i just couldnt diffuse my hair - turns out i just needed a silicone diffuser - GAME CHANGER
JOIN FOR FREE
The Boss Curl Club
Enjoy free e-learning, go-lives, Q&A's, curl workshops, product reviews and more! It's the best way to learn how to use Boss Curl Co products and also learn about your own curls.
SIGN ME UP!