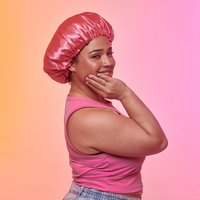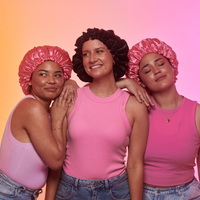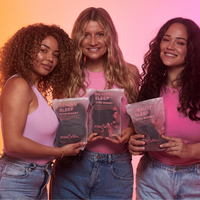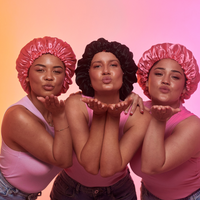 Beauty Sleep - Satin Bonnet
Sick of full refresh's? Make sleep heavenly with our signature reversible & adjustable satin bonnet. Our bonnet will stay in place, it has plenty of space and it's soft fitting and silky smooth meaning it will glide over your waves, curls and coils while you're in your slumber.
Adjusting your cap means it will fit all sized heads, keep it loose or tighten it up depending on how you sleep. It's also reversible so you can wear in black or baby pink.
If you have waves, curls of coils, a sleeping cap is a necessity!
MATERIAL: Double-layered soft polyester satin, soft, smooth and shiny.
DIMENSION: Adjustable equipped with a drawstring to keep it in place. It fits almost any head size.
DOUBLE-FACED: This satin bonnet is double-faced. You can wear both ways.
Washing notice: The best way is wash by hand below 86°F/30°C water, if you want to wash it in a wash machine, place in a washing bag, avoid putting the cap with other clothing in the wash bag.
Better than the rest
Love the sleeping cap. Comfy as! So roomy but Dosent come off. Keeps my hair fresh and protected!
Game Changer!!
What an absolute Game Changer this it!! I have tried different ones previously and have had trouble with it staying on during the night and being comfortable - not this guy!! This one is 10/10! Comfortable, soft, stays on, is roomy, comes in multiple colors (which means I might have to collect them all) and extends your curl life! I am currently on day 3 (2nd day of refreshing this BCC products - of course!) and my curls are almost better than day one - I might actually say today is my favorite curl day so far from this wash!
Big YES from me!
Thanks for your beautiful review Tegan - we also LOVE the sleep cap ;)
Perfect!
Love this sleeping cap - it's comfy, cool and doesn't squash my curls. Beautifully made and love the red!!! Fabulous idea to add the toggle for all head sizes 😀 this is a must for all!
This is the best
This cap is perfect. I have thick hair & struggle to find a cap that fits, stays on & doesn't squash my curls. This cap ticks all the boxes. Very comfortable & great quality. Highly recommend for all hair types
YES! This is exactly why we came up with this sleep cap, for extra roominess!!!
JOIN FOR FREE
The Boss Curl Club
Enjoy free e-learning, go-lives, Q&A's, curl workshops, product reviews and more! It's the best way to learn how to use Boss Curl Co products and also learn about your own curls.
SIGN ME UP!