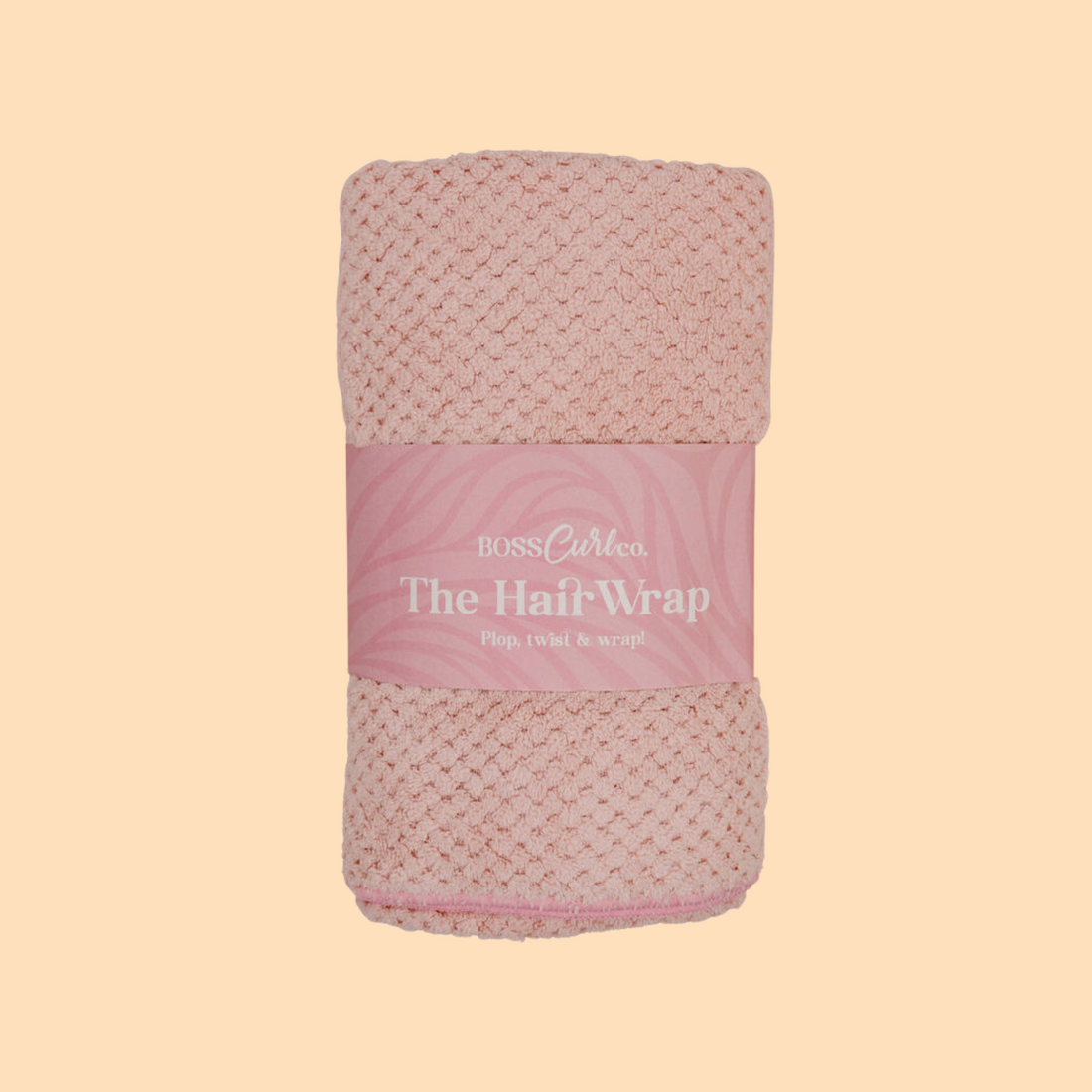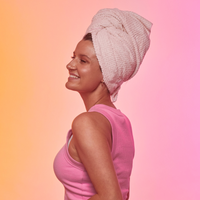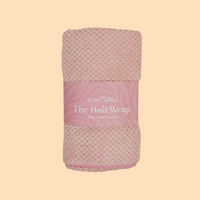 Plop. Twist. Wrap. Give up the towel and reduce frizz!

You can plop as they are large (160cm x 60cm) or you can simply get your hair up while wet, protecting it while getting ready! Designed with high quality microfiber material to keep frizzy hair tame. Wet hair is vulnerable hair! Gently wrap your hair and enjoy friction free plopping that will reduce hair damage, breakage, and frizz.
Lightweight and durable with an easy-to-use strap on the back to stay on your head without pulling or damaging hair. Simply plop, twist, and wrap.
Helps reduce frizz, tangles and split ends.
Won't fall off your head

The elastic band effectively keeps the hair towel in place snug while you wear
Extra large so fits all sized heads 160cm x 60cm

Elastic band at the back makes it as small or large as you like

Wrapped in cardboard packaging - more eco friendly
Light pink
CARE INSTRUCTIONS: Hand Wash with Mild Liquid Detergent (Free of Dyes, Fragrances, Bleach & Softeners), air dry. 
Do NOT Use Any Fabric Softener as this Clogs the Microfibers and Reduces Performance. Do NOT Use Chlorine Bleach, Wash Only with Other microfiber to Maintain the high performance.
I love it
The elastic strap on the back is a god-send, it holds my hair in place while I am doing my makeup. It's perfect for plopping your curls!!!! Oh and it's huge!
Sooo good to hear Belinda!! Thanks for the review x
Extra big!
I have a big head...it's a nuisance haha! Hair wraps fall off my head, towels make my hair frizzy but THIS is SOOOO perfect! It's big, it's frizz free, it is everything. I am buying a couple more so I can rotate when I am washing my other one hehe!
haha so happy it fits!!! :)
JOIN FOR FREE
The Boss Curl Club
Enjoy free e-learning, go-lives, Q&A's, curl workshops, product reviews and more! It's the best way to learn how to use Boss Curl Co products and also learn about your own curls.
SIGN ME UP!